At Betrimex, the coconut material area is developed right at "coconut capital" Ben Tre and just only 11-12 month old coconuts meet the harvest quality.
Quality from resource
The last island to receive the silt of the Mekong before flowing into the sea, the brackish water with clay mud (fertile, rich in humus, and many good antibacterial) has created favorable conditions for coconut plantation Ben Tre like putting on a green, distinct coconut flavor and fruit yield is also higher than other regions.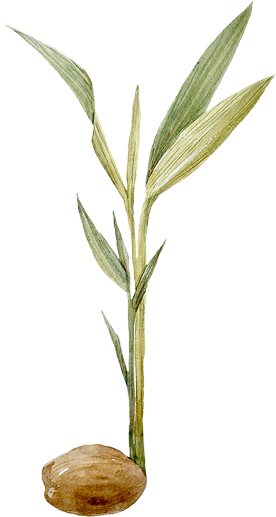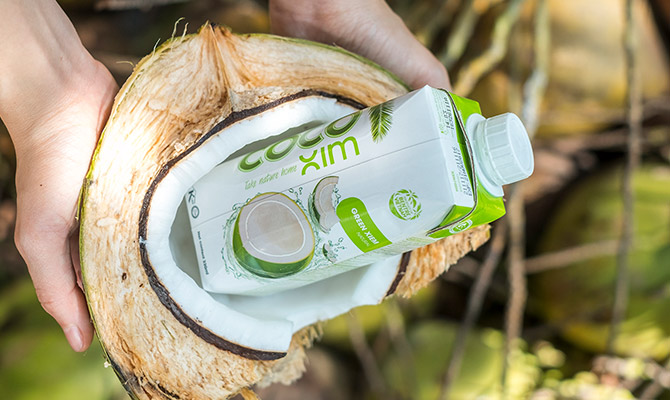 Ben Tre owns the largest coconut growing area in the country,
over 70,000 hectares
leading in production with over
600
million fruits / year
take 40% of the total coconut production in the country.
40%
The quality of Ben Tre coconut is evaluated much better than others by experts:
thick coconut shells contain more organic matter, fatter coconut meat and sweeter coconut water.
Content of coconut oil takes 65% in Ben Tre coconut
Natural sweet coconut water with brix = 5% - 9%
1.9 tons
copra/ha
Average coconut yield reaches 1.9 tons of copra / ha higher than the average of APCC countries (averaging 0.9 tons copra / ha)
Ben Tre possess over 70,000 hectares of coconut (44% national coconut area), this province was known as the coconut capital of Vietnam
Adjacent to the sea tropical climate
1.500
mm/ year
Brackish water supply, Annual precipitation amount  1.500mm/year
Alluvia, Salinity
Acid Soil
the proportion of coconut's quality between vietnam and the world
The heart of the grower
In Ben Tre, there are hundred-year-old coconut gardens that tell the historical story of the coconut typical tradition of people here. Coconut trees and Ben Tre farmers stick together for generations, coconut is processed in dishes, drinks, living things. More than that, coconut trees not only help to dissolve difficulties, but also do radiant for coconut land with the number of domestic and foreign tourists from thousands of miles away still known the very top geographical indications - Ben Tre Coconut

Dedicated to cultivating and taking care of each coconut stool, farmers have devoted to coconut farming a persistent love in the hope of to bringing Ben Tre coconut to the world. Moreover, coconut farming is also a traditional profession encouraged to preserve in Ben Tre. Therefore, they have constantly updated new and effective farming methods, such as organic coconut farming.

ORGANIC COCONUT PLANTATION
In the past, farmers often faced with two major difficulties: the uncertainty of market prices was sometimes very low; and infertile salty soil, causing salinity reduction. Therefore, Betrimex's project of developing Organic coconut gardens will be a solid foundation for the sustainable development of the local community
see more