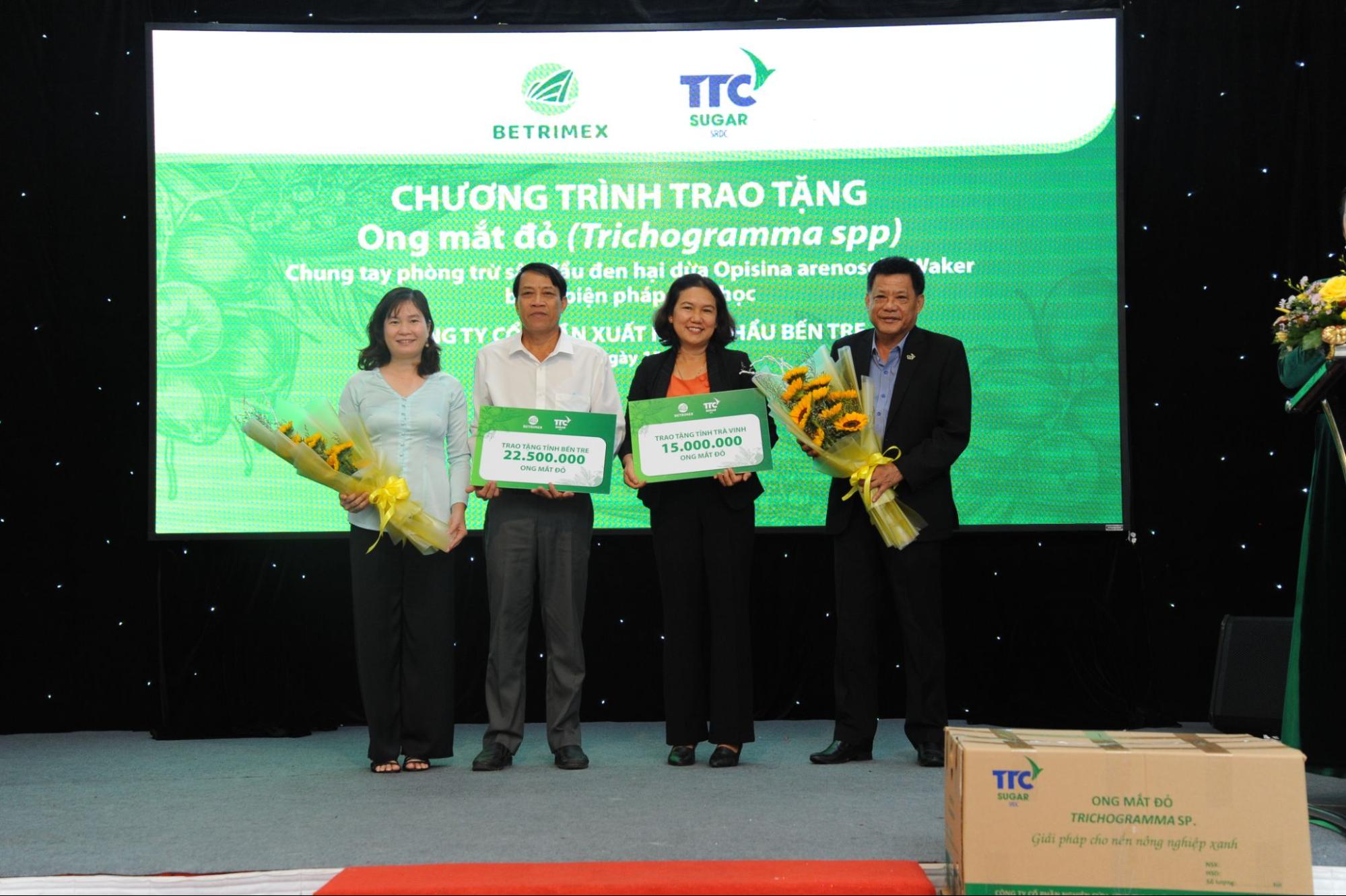 Coconut areas in the southern provinces of Tra Vinh and Ben Tre, which is dubbed Vietnam's kingdom of coconut, have faced many types of pests, with the black-headed as caterpillar most ominous predicament. A local firm - Betrimex - has introduced biological methods to help local farmers protect their organic coconut gardens.
Using natural enemies to control pests
In 16 countries around the world that have been damaged by black-headed caterpillars, experience shows that using natural enemies to kill them is the most effective method.
Particularly, for organic coconut areas where it is not possible to use chemical pesticides for preventing pests, applying biological and physical methods to control pests on coconut trees will be more feasible than spraying pesticides.
In July 2020, coconut-damaging black-headed-caterpillars were discovered in Phu Long commune, Binh Dai district, of Ben Tre Province. At first, caterpillars appeared in several thousand square meters but so far the whole province has more than 1,500 hectares in 70 communes that have been affected by this type of pest. Tieu Can and Cang Long districts in Tra Vinh province also have about 40ha affected by this kind of pest.
According to Ms. Nguyen Thi Truc Lien - Betrimex's Director of Agriculture Division, recognizing the urgent need in applying biological methods to prevent black-headed caterpillars, with the consensus from Ben Tre and Tra Vinh province, Betrimex and Thanh Thanh Cong Sugar Application Research Joint Stock Company (SRDC) have cooperated to implement biological methods for pest control in these two provinces.
Based on available experience from pest control in sugarcane and the successful export of biological methods to Laos, Betrimex and SRDC proposed an integrated method for safe and highly effective pest control, without harm to the environment such as: spraying BSF oil, releasing red-eyed bees (Trichogramma spp.), preserving and promoting local natural enemies. These methods are also especially suitable for organic farming standards.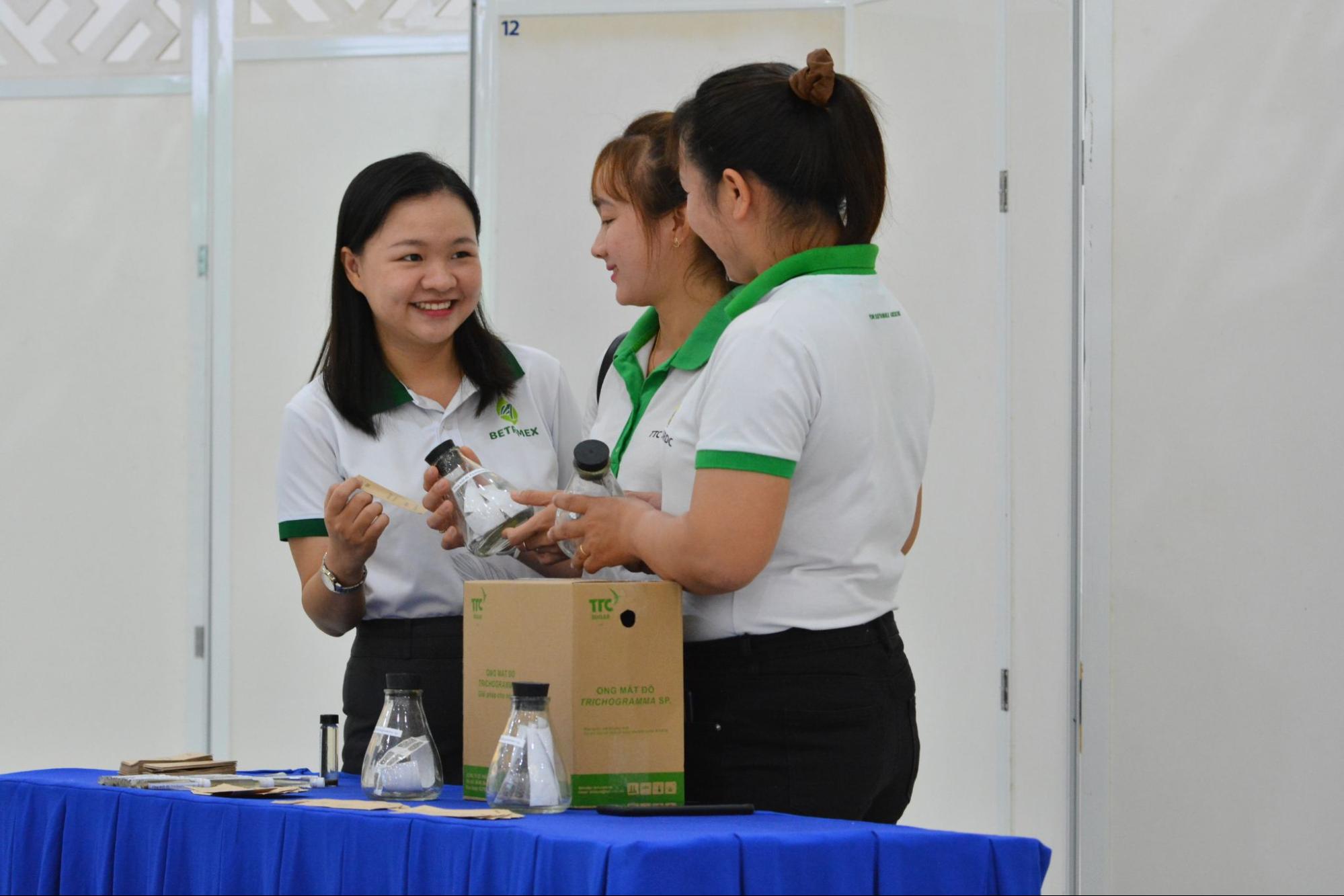 Deputy Director of the Ben Tre Department of Agriculture and Rural Development, Mr. Huynh Quang Duc said: "When we detected a new coconut pest in the province, we were quite confused and mobilized a lot of resources for the prevention campaign."
"We were so glad that Betrimex was a pioneer, accompanying the province in collaboration against pests with bio-orientation. Betrimex made an important contribution to prevent and control coconut-damaging-black-headed caterpillars."
As of 2022, Betrimex and SRDC supported the treatment of over 270 hectares of coconut infested by this biological method with 100% of their enterprise's funding.
Betrimex was formed and developed with the mission of creating a sustainable and harmonious relationship with farmers, sticking with Vietnamese coconut trees. Thanks to applying biological methods, Betrimex safely protected the organic coconut material area from coconut-damaging-black-headed caterpillars.
Betrimex's coconut material area reached more than 6,800 hectares and has been ranted the Organic Certifications (the EU, USDA, Australia, Japan, Korea, China, Sweden), of which 1,700 hectares are in Tra Vinh province.
This organic material source ensures the best quality input source in line with the development trend of organic agriculture - organic processing - producing organic products, which are also an urgent need of advanced countries in the world.
Sponsoring red-eyed bees (Trichogramma sp.)
On September 13, 2022, Betrimex cooperated with SRDC in sponsoring an additional 37.5 million red-eyed bees to prevent coconut-damaging-black-headed caterpillars for 500 hectares in Ben Tre and Tra Vinh province. Accumulated from 2021 up to now, Betrimex and SRDC sponsored nearly 60 million red-eyed bees for black-headed caterpillar control.
Dr. Tran Tan Viet - SRDC Chairman said: "Using natural enemies is the method that appeared a long time ago to control pests. Nowadays, the trend of applying biological solutions in pest control is increasingly popular because of its high efficiency, while ensuring the health and safety of growers and consumers. Facing coconut-damaging-black-headed caterpillars, the method of releasing red-eyed bees (Trichogramma sp.) is considered an effective tool."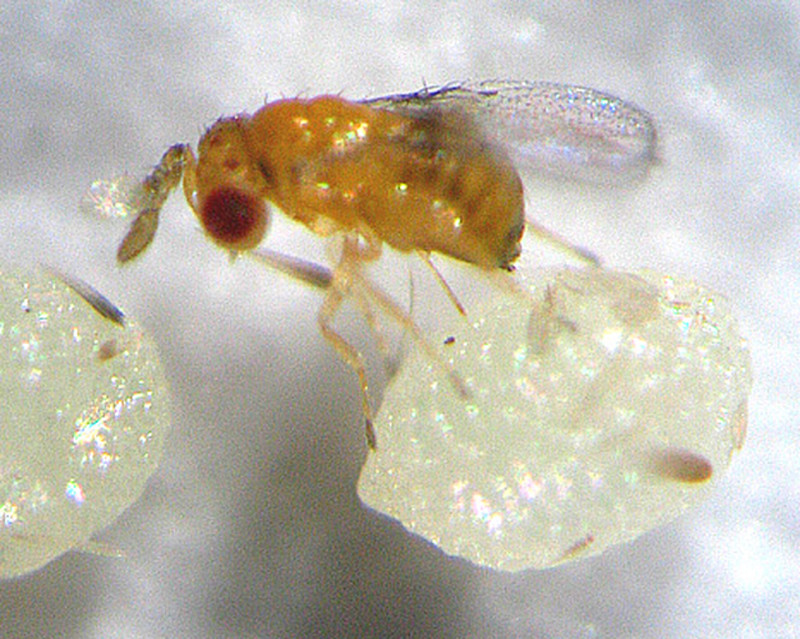 Once released, red-eyed bees will grow exponentially. Other natural enemies will also have the opportunity to grow stronger in an environment that has the appearance of red-eyed bees. Subsequent (second, third) generations of red-eyed bees will continue to perform effectively better in the wild.
"The province resolutely chooses biological methods for pest prevention, not chemicals or pesticides. This is the best solution to maintain and develop organic coconut material areas. Our goal from now until the end of this year's rainy season is basically to control the coconut pest. Therefore, the act of giving 37.5 million red-eyed bees makes a great contribution in achieving the goal of pest control on coconut trees at this time," said Ben Tre Deputy Director of the Department of Agriculture and Rural Development, Mr. Huynh Quang Duc said.
Applying biological methods in organic farming from the perspective of pioneers like Betrimex needs to be spread and implemented. This will create new opportunities for the sustainable development of the Vietnamese coconut industry and simultaneously grasp the world's production and consumption trends.