Organic coconut Water With Mango Juice

Description
DESCRIPTION:
A product is a mixture of organic coconut water with pure and organic tropical fruit juice from mango. Not only delicious, but it also supplies 5 essential minerals such as K, Mg, P, Na, and Ca which rehydrates and keeps you stay healthy

PACKING:
The product is processed by direct UHT technology to preserve the nutrients & the fresh flavor of Ben Tre coconut.

No preservatives, no colorings. Never from concentrate. A taste of the tropics in every sip!
Certified Organic USDA, EU, ACO & China

Processed on Tetra Pak with UHT technology

Never from concentrates

No preservatives

All natural ingredients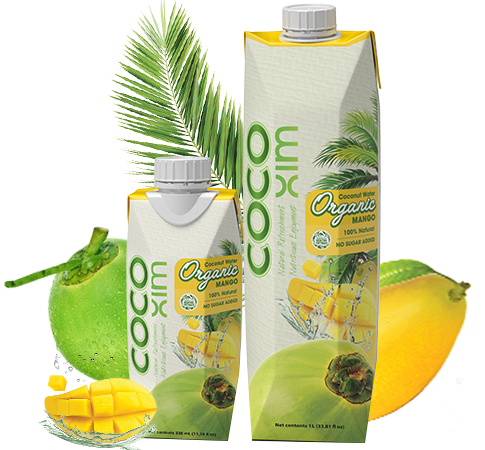 330ml

1000ml




Certifications:
Organic (NOP/EU/Korea/ACO/JAS), Halal, Kosher, BSCI, BRC, FSSC22000, FDA
Nutrition facts
Calories (80 kcal)
Total Fat (0g)
Cholesterol (0mg)
Sodium (130mg)
Total Carbohydrate (21g)
Protein (0g)
Vitamin D (0mcg)
Calcium (30mg)
Potassium (680mg)


Dehydration & Energy revitalization
Coconut water is a great energy revitalizing drink. It contains a small portion of sugar and sodium concentration, which is much less than those of other sport drinks. On the other hand, it also provides a large portion of Sodium, Potassium, Phosphorus, Calcium, Magnesium which help revive and enhance your energy

Helps digestion & immune system
Its Lauric acid content is anti-fungal, anti-bacterial and anti-viral. It boosts the immune system & digestion system



Hypertension reduction
Research has shown that frequent consumption of coconut water can be effective at regulating high blood pressure, thanks to its Potassium & Lauric Acid
The land of premiumquality coconuts
Being the final cluster of islands, which receive lots of alluvium of Mekong River, the brackish water area with muddy clay (fertile, humus-rich, and lots of good antibacterial) creates favorable conditions for fresh and green Ben Tre coconut farms and higher yield than that of other areas
Learn more
CSR
Betrimex is not only well known as the leading manufacturer and exporter of products based on coconut in Vietnam, but also a "Brand for Community
Learn more